Get the 2018 FIFA World Cup draw live update on this Leofirms Page. We are going to be bringing you the minute by minute update from Moscow.
Want to know the latest Nigeria News as regards the 2018 FIFA World Cup in Russia? Then checkout this page.
Here are the The pots for the 2018 FIFA World Cup Draw
Each group will contain one team from each pot.
Pot 1: Russia, Germany, Brazil, Portugal, Argentina, Belgium, Poland, France
Pot 2: Spain, Peru, Switzerland, England, Colombia, Mexico, Uruguay, Croatia
Pot 3: Denmark, Iceland, Costa Rica, Sweden, Tunisia, Egypt, Senegal, Iran
Pot 4: Serbia, Nigeria, Australia, Japan, Morocco, Panama, Korea Republic, Saudi Arabia
Update section:
Latest: Nigerian broadcaster and journalists wins headgear-of-the-day award: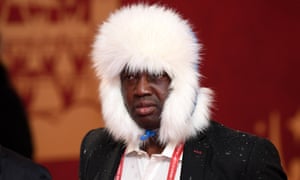 Toyin Ibitoye arrives for the 2018 Fifa World Cup draw.
Refresh Page for latest Update.
BONG! It's 3pm GMT, 6pm in Moscow. Showtime.
Vladimir Putin is on stage
"Russia has a passion for football and have had many outstanding players over many generations.
"The most coveted trophy will be won by the team showing the most resilience. I would like to wish success to all the teams and I call upon all loyal fans to come to Russia and enjoy the finals of 2018.
"Thank you to all the Russian people who have worked hard over the last seven years to bring us one step further to the final tournament. Thanks to all 11 Host Cities who are doing a tremendous job"
As the Draw begins here are the people who are going to be responsible for it
Draw assistants:
Nikita Simonyan (91-year-old former USSR striker who played at the 1958 World Cup)
Gordon Banks (World Cup-winner with England in 1966)
Diego Maradona (footballing genius and renowned cheat at both sport and taxes)
Laurent Blanc (French 1998 World Cup-winner and pate-kisser)
Cafu (lung-busting Brazilian wing-hugger and 1994 and 2002 World Cup-winner)
Fabio Cannavaro (captain of Italy's 2006 champions)
Carles Puyol (hirsute Spaniard) and
Diego Forlán (neither Russian nor a World Cup winner, though he was the joint top scorer in 2010, who presumably received his invite in an administrative mix-up)
Here comes the draw
Group A: Russia, Uruguay, Eygpt, Saudi Arabia
Group B: Portugal, Spain, Iran, Morocco
Group C: France, Peru, Denmark, Australia
Group D: Argentina, Croatia, Iceland, Nigeria
Group E: Brazil, Switzerland, Costa Rica, Serbia
Group F: Germany, Mexico, Sweden, Korean Republic
Group G: Belgium, England, Tunisia, Panama
Group H: Poland, Columbia, Senegal, Japan